---
In order to protect our patients, visitors, physicians and caregivers from the spread of the coronavirus (COVID-19), we are enacting a modified hospital visitor policy.
Learn more about our visitor policy
Monoclonal antibody therapy
HCA West Florida now offers Bamlanivimab monoclonal antibody infusions to patients who have tested positive for COVID-19 and have other high-risk factors. The FDA has authorized the emergency use of Bamlanivimab for the treatment of COVID-19 under an Emergency Use Authorization (EUA). Medication supply is administered based upon availability. Patients must have a physician referral.
---
COVID-19 and Pregnancy
An Update for our Patients
We would like to take this opportunity to update you about your maternity care during the coronavirus (COVID-19) pandemic, and assure you that our dedicated team of expert nurses, physicians and midwives are committed to providing safe and effective care to every patient who walks through our doors.
---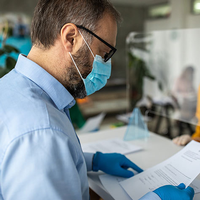 COVID-19 testing basics
September 02, 2020
Here is some information on how the different types of COVID-19 tests work and who should be tested.
---
Why visitor restrictions at Fawcett Memorial Hospital and Englewood Community Hospital
July 10, 2020
To help protect our patients, caregivers, and physicians from an increase in the community spread of COVID-19, Fawcett Memorial Hospital & Englewood Community Hospital implemented a temporary restriction of visitors beginning on Friday, July 3, at 6:00am...