Quality & Patient Safety
Clinical Excellence
HCA West Florida hospitals achieve industry leading performance on public clinical measures, including CMS Core Measures. Last year 14 of our hospitals earned nation recognition as Top Performers in Key Quality Measures from The Joint Commission.
We also earned several "A" Hospital Safety Score ratings, which uses national performance measures from several sources to produce a single score representing a hospital's overall performance in keeping patients safe from preventable harm and medical errors.
We are saving lives, reducing complication rates and eliminating unnecessary costs through a strong focus on quality, including:
Expand All
Collapse All
AIM for Zero
The goal is to eliminate Central Line-Associated Blood Stream Infections (CLABSI) through the consistent application of proven techniques to protect patients from preventable blood stream infections during their hospital stay.
Airstrip OB™ & Cardiology™
Several of our hospitals have adopted this technology that allows physicians to remotely access and view patient monitors from their phones.
Broselow System for Acute Pediatric Administration of Drugs
Our hospital emergency departments, nurseries and pediatric programs are equipped with this sophisticated medication safety system to ensure the proper dosing and administration of drugs to infants and children.
Flu Season Preparation
We are making our hospitals safer for our patients and visitors through our flu vaccine initiative. This includes providing free vaccines to staff and requiring vaccinations of health workers with direct patient contact. When a vaccine is not possible, the caregiver must wear a mask.
Maternal/Fetal Safety Initiatives
HCA took a leadership role with the March of Dimes and other national organizations by participating in initial research studies to minimize or eliminate elective deliveries before 39 weeks gestation. Study results showed a positive impact on the health of babies. Today this is a standard practice in our hospitals.
We were the first US healthcare system to perform a blood test to screen newborns for kernicterus, which can cause permanent brain damage and physical impairment. If identified immediately, it is easily treatable. Today this screening is a standard of care in hospital newborn nurseries across the country and as a result the incidence of kernicterus has been dramatically reduced.
Medical Education
More than 200 physicians came to the area last year to complete their medical education in HCA sponsored programs. Studies indicate that many of these physicians will make the community where they complete their graduate medical education their permanent home.
Largo Medical Center has been conferred status of Statutory Teaching Hospital by AHCA and is home to the largest osteopathic teaching program in the Southeast featuring 13 residency/fellowship training programs.
St. Petersburg General Hospital and Northside Hospital also sponsor medical training programs including Traditional Rotating Internship and Family Practice Residency.
Oak Hill Hospital received institutional accreditation by the Accreditation Council for Graduate Medical Education (ACGME) and accreditation for its internal medicine residency program. The program is accredited for 30 residents with 10 starting in July 2014. Regional Medical Center Bayonet Point also recently received accreditation for an Osteopathic Internal Medicine Program and will also be receiving its first class in 2014.
Medical Research
Several West Florida HCA hospitals participated in the national Randomized Evaluation of Decolonization versus Universal Clearance to Eliminate (REDUCE) MRSA Trial study in conjunction with investigators at Harvard and the Agency for Healthcare Research and Quality (AHRQ) and the Centers for Disease Control and Prevention (CDC).
Another research focus is on improving trauma care in Florida through our collaboration with USF Health. Level II Trauma Centers at Blake Medical Center and Regional Medical Center Bayonet Point are participating in gathering information that will be used to develop best practices in trauma care.
Largo Medical Center is actively engaged in clinical research. Current research studies conducted by the medical staff involve cardiac and primary care related issues. The residents/ fellows also participate in research as part of their training.
Northside Hospital is a cardiovascular clinical research strategic sites, affiliated with the Sarah Cannon Research Institute of Nashville (SCRI). SCRI is one of the largest clinical research programs, conducting community-based clinical trials in oncology and cardiology.
Radiation Right
Radiation Right applies patient safety principles and actions to medical imaging and radiation therapy with the goal of protecting patients from the harmful effects of radiation overexposure. Radiation Right focuses on providing each patient with the Right Exam, of the Right Site, in the Right Dose.
Sepsis Program
Severe sepsis is now one the most common causes of death in ICUs nationally. We are aggressively working to reduce this patient safety threat through hospital and community-wide focus on early recognition and management.
STEMI Initiative
A STEMI (ST-Elevation Myocardial Infarction) is a deadly type of heart attack, identified on an EKG. Early treatment to the blocked coronary artery minimizes heart muscle damage and preserves the heart's pumping function, thereby increasing survival and reducing or eliminating complications.
HCA West Florida hospitals are saving lives through an aggressive focus on treating STEMI patients quickly. Partnering with EMS has allowed medical treatment to begin immediately on the scene, before the patient arrives in our emergency department.
STEMI times are defined as the time it takes to reestablish blood flow and the American College of Cardiology, the American Heart Association and the Joint Commission have established that this should occur in 90 minutes or less. Our hospitals are averaging times well below this and in most cases are posting STEMI times on their hospital websites.
Vitals Now
We piloted this technology to enable the automatic capture of patient vitals from the bedside into our clinical system, making them immediately available for review by clinicians.
Collapse All
Patient Safety Resources: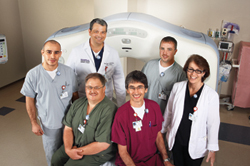 FloridaHealthFinder.gov
The Florida Agency for Health Care Administration introduced this website to help the public make well informed health care decisions. With accurate and trusted health care information and tools to compare health care providers and facilities, consumers can make informed choices.